Three Planes of Existence - An Ear to the Ground
Environmental Sounding Exhibition // Zürich, Switzerland January 2021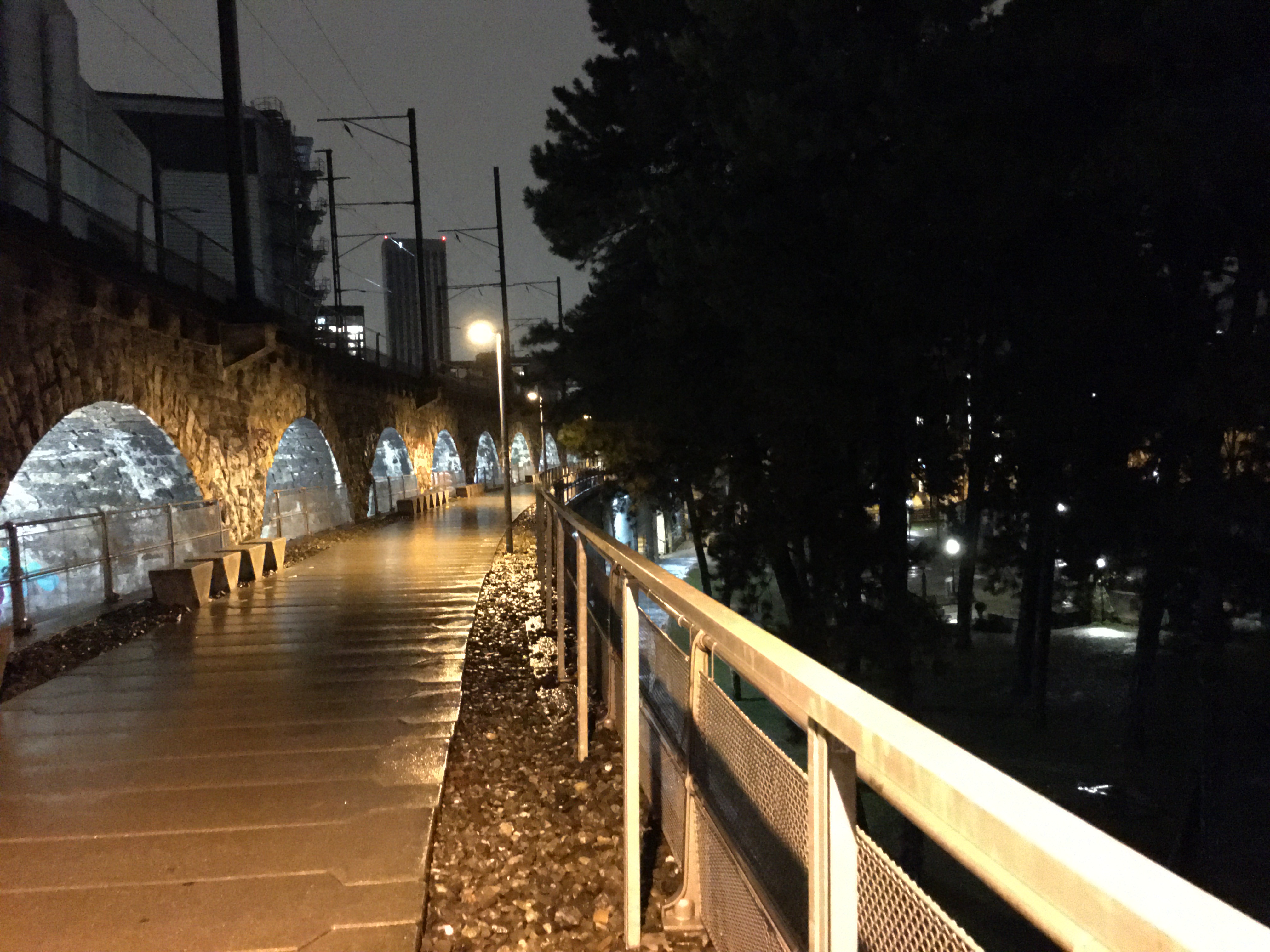 Experimental Film & Field Recording
20'

Throughout 2020, I observed that the way I listen had changed. My social and physical interactions had shrunk but conversely, my gaze into the outside world became larger, roomier. This is curious, not least because of an ever expanding imagination, but something about time started to feel different. I had become more aware of what I hear, even small or barely perceptible sounds. For months, I lived a mundane existence, taking a cold swim midday, everyday in the Limmat. I frequently walked across the Viaduct in Zürich, not far from where I live, from one end to the other, often late at night. Sounds criss-crossed like lines of energy, of people zigzagging across the park below and the frequent passing of trains just above. Occasional piercing shards of trams arriving and leaving, blending with industry, traffic, trees and animals, all filtered through the centuries' old stone arches. My flat is on the 6th floor with a window facing a strange triangular plot of three buildings framing a distant and often mist-laden Uetliberg (mountain). Straddling two dead end streets, these buildings bustle with life behind glass windows into which I spend hours looking and contemplating. This short film is an imaginative rendering of sounds on three different planes that directly mirror the environments I moved through daily. These planes differ in height, but also present very different sonic experiences. Detail, imperceptibility, love, fascination, sensation, pleasure, energies both human and animal, proliferate and amplify a world that reveals more with closer attention. The images are taken with a smart phone and set to a soundtrack composed entirely from field recordings of these three planes over a period of 4 weeks.




As part of Group exhibition: Environmental sounding
In partnership with: Wunderkammer Glattpark

How to open a dialogue between our sonic environment, scientific datas and musical approaches?

Environmental sounding is the online presentation of the artworks created during the Acoustic Ecology seminar and Sound & Environment course of Marcus Maeder in autumn 2020. The works were inspired by scientific measurements, field recordings and musical approaches exploring environmental questions and impressions from a sonic perspective. How the soundscape can give us scientific knowledge but also artistic perspectives? How to translate impressions from the field? What are the political possibilities of environmental listening? From ambient music to sound mapping in Zurich, the works bring an artistic approach to a scientific way to listen to our soundscape. During the opening, you will be able to listen to some sounds of the larger soundmap of Glattpark, sound art compositions and sonification processes.