Non-/linear attunements – Relational exercises to listen otherwise
Klang Moor Schopfe Festival // Appenzell, Switzerland September 2021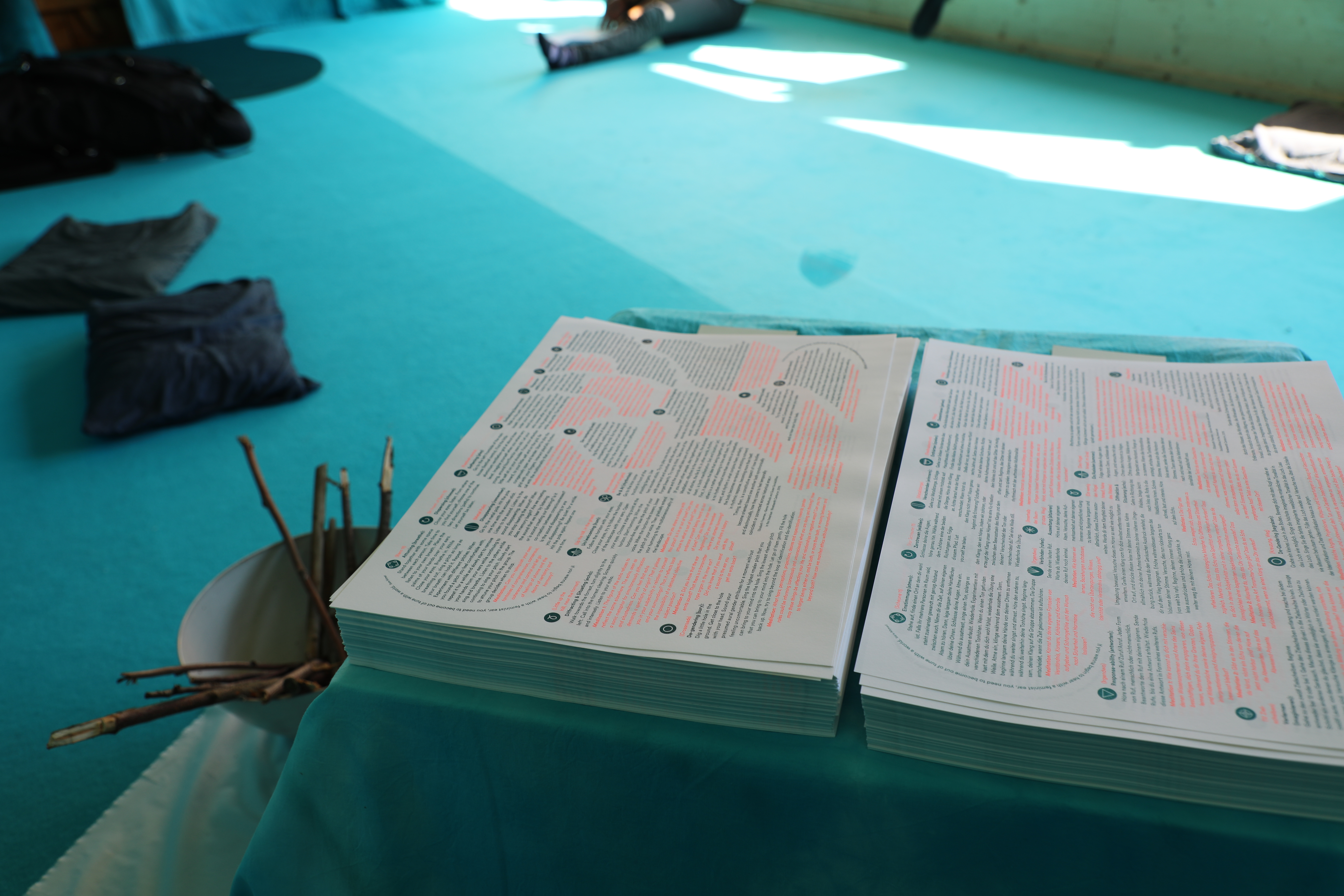 Non-/linear attunements – Relational exercises to listen otherwise
6-channel sound installation (1'08''') and a poster with listening-exercises to go.

A Frei & Franziska Koch (OOR Saloon)
in collaboration withNelson Irsapoullé, Tracy September & Vivian Wang

A multi-channel sound installation with listening exercises around relational and situated listening, decolonial and queer feminist sound practices. These exercises, in the form of a pamphlet poster, can be used by visitors on the paths between different barns (schopfe) at the festival.

Based on interviews, texts and listening scores by composer Pauline Oliveros, her thoughts on "androgynous music", reflections on environmental listening by geographer and sound artist AM Kanngieser and the examination of the card sets of "decolonial futures" (Radical Tenderness & With/out Modernity), A Frei and Franziska Koch developed a series of listening exercises.



In collaboration with invited artists Nelson Irsapoullé, Tracy September and Vivian Wang, the proposed exercises were brought into physical experience and interaction with the environment on the various paths between the barns in the run-up to the festival, renegotiated together and applied. Applications of each of the five artists' exercises were recorded using various forms of microphony. These five audio tracks, recorded simultaneously but individually, form the basis of the multi-channel sound installation, and also the starting point of the exercises, expanded and contextualised with further thoughts.

The exercises and the sound installation present modes of listening that go beyond an auditory perception. "I consider listening as processes of perceiving, sensing, tuning in and noticing. I listen with my hands, my eyes, my skin, my belly." (AM Kanngieser). There is no universal, objective, innocent or separate listening. Listening, like all communication, is trained, culturally shaped, embodied, geographically specific and infused with socio-political and economic power/relationships.








Sound Kite Orchestra
Lido di Venezia, Spiaggia di San Nicoletto // Venice, Italy April 2019

The World's 1st Sound Kite Orchestra
Initiated by Florian Dombois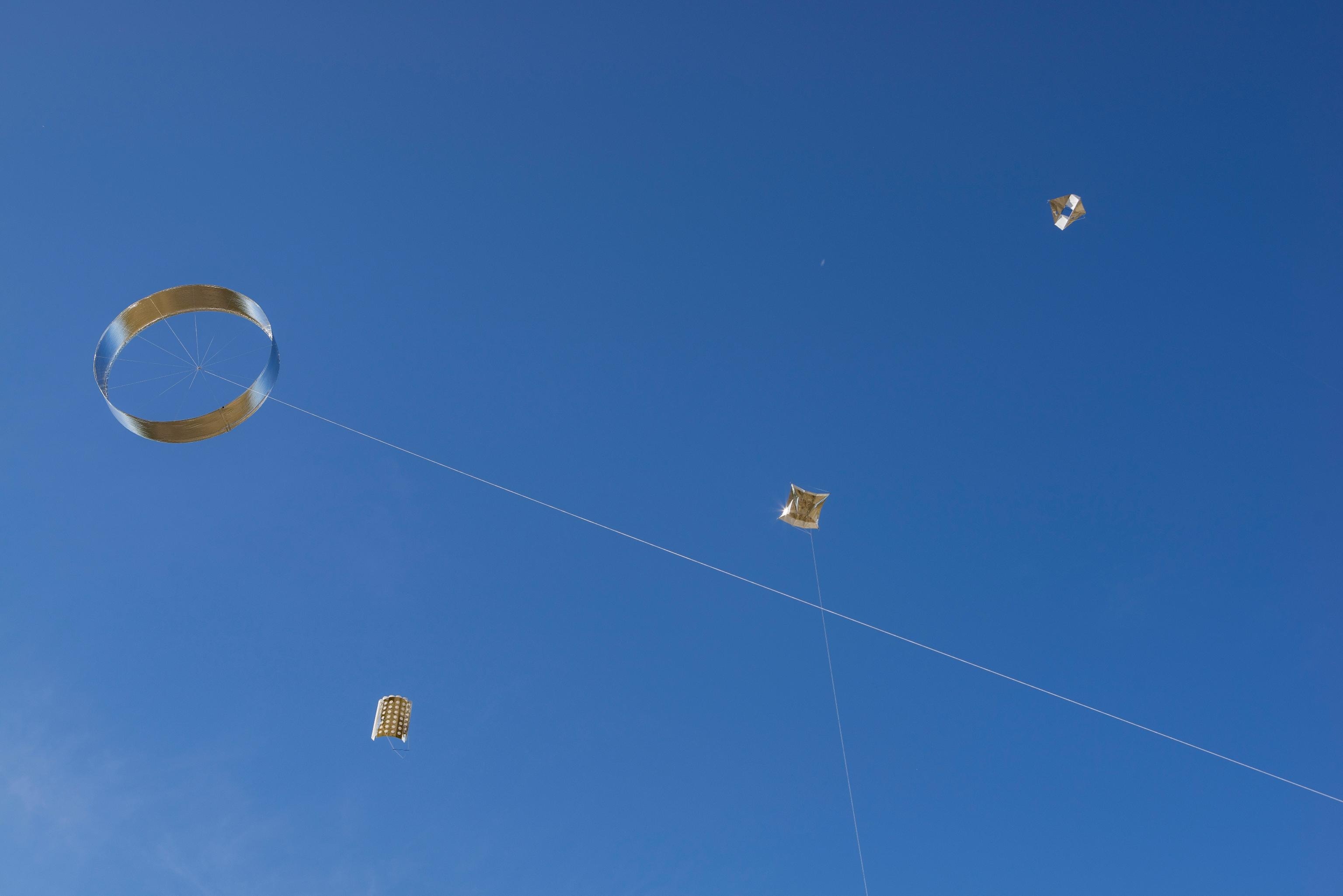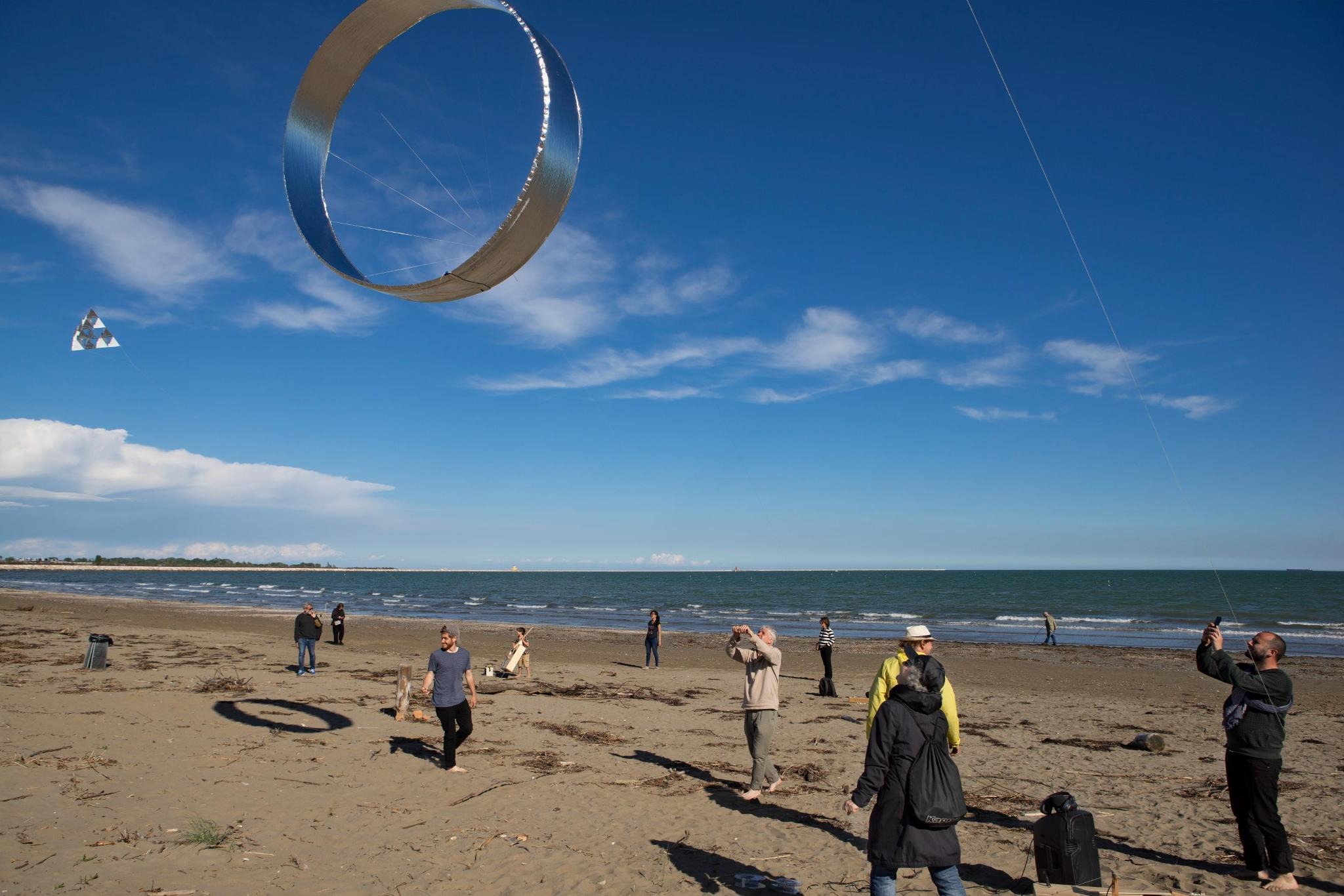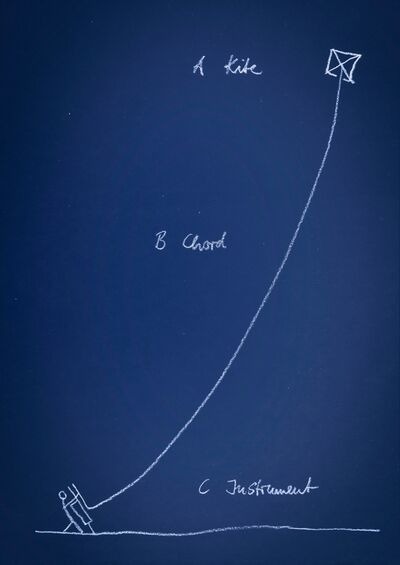 How can we make the wind sing? How can an uncontrolable natural phenomenon cooperate with a music orchestra? The Sound Kite Orchestra (SKO) is an international formation of musicians, composers, sound artists and video artists, who use kites for their collective performance. Being inspired by traditional sound kites especially from Malaysia, SKO held its first 5-day-workshop in Venice exploring the possibilities to play with the wind. In a daily routine, the eight members tested and improvised on the beach of San Nicoletto with their kite instruments for a public performance on 29 April 2019.




Members of the Orchestra:
Florian Dombois, Bern (CH)
Fabian Gutscher, Zurich (CH)
Kaspar König, Zurich (CH)
Luke Martin, Boston (USA)
Berit Seidel, Zurich (CH)
Tina Aliman, Singapore (SG)
Vivian Wang, Singapore (SG)

The project was supported by Research Focus Transdisciplinarity of Zurich University of the Arts, Switzerland and Hosted in Venice by BURB.

The Venice Session, a recorded release is available to listen and purchase here.
Struck Modernism "Figure X A" by Henri Presset (1975)
ETH Campus // Zürich October 2019



Struck Modernism "Figure X A"
Improvisation Performance with gloves, mallets, superballs, sticks and stones
An initiative of Florian Dombois

A series that audifies recordings of sculptures set into natural vibration with a hammer or mallet. In these works, modernist sculptures go beyond being perceived objects alone, but are temporalised and transformed into sounding bodies.




Performers:
Ludwig Berger, Florian Dombois, Kaspar König, and Vivian Wang
Mixed by Ludwig Berger
Film documentation by U5
Photo: U5

Recorded on the campus of ETH Zurich (Hönggerberg), Switzerland
Cassette and digital release available here.

The Ground from the Land to the Sea
A collaboration with Tarek Atoui
NTU Centre for Contemporary Art // Singapore March - April 2018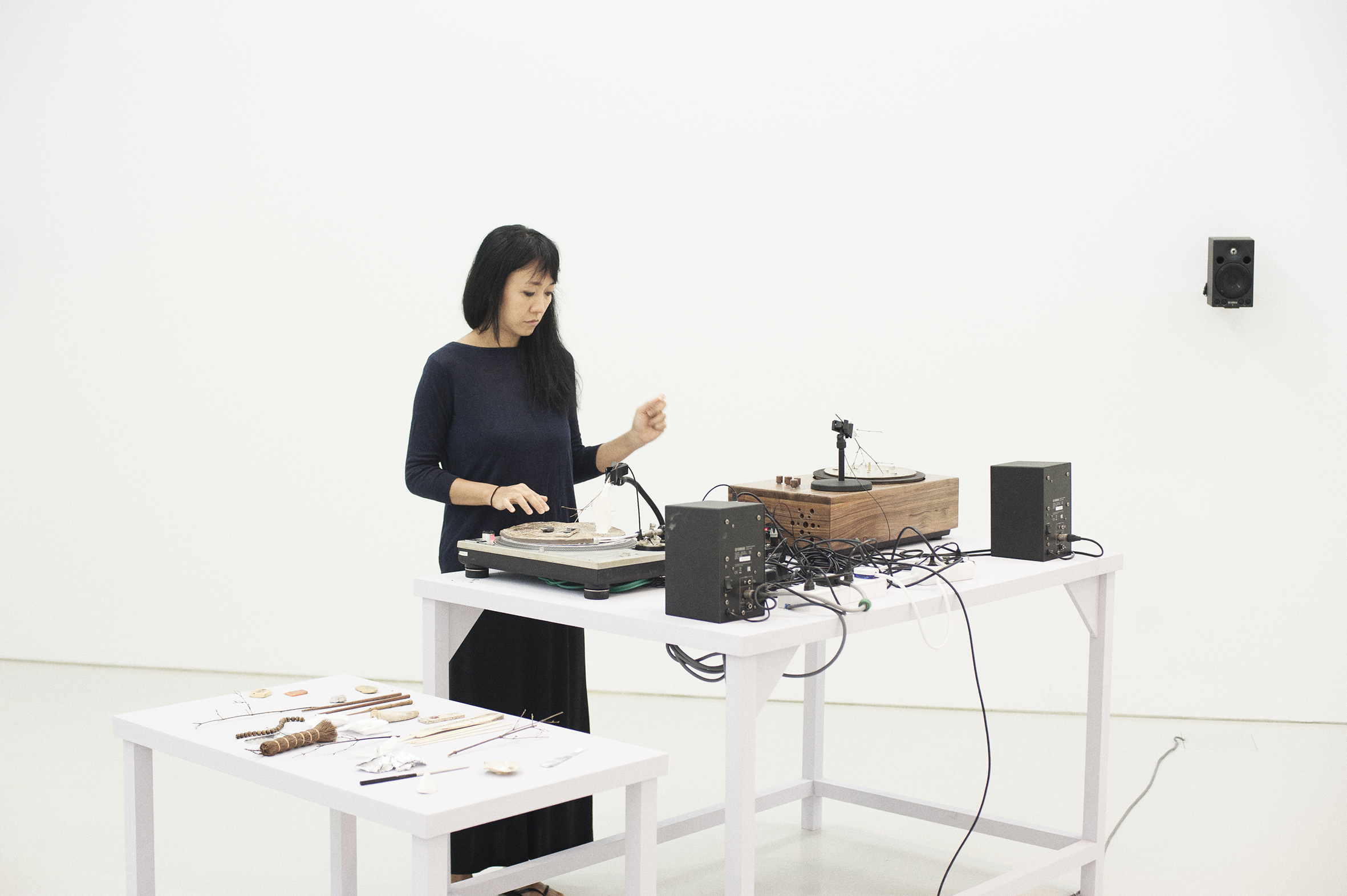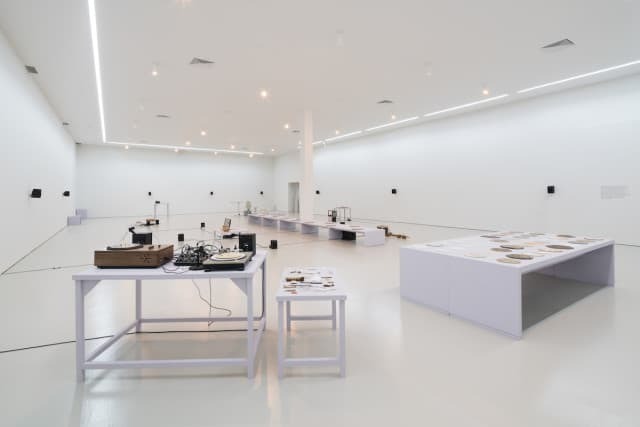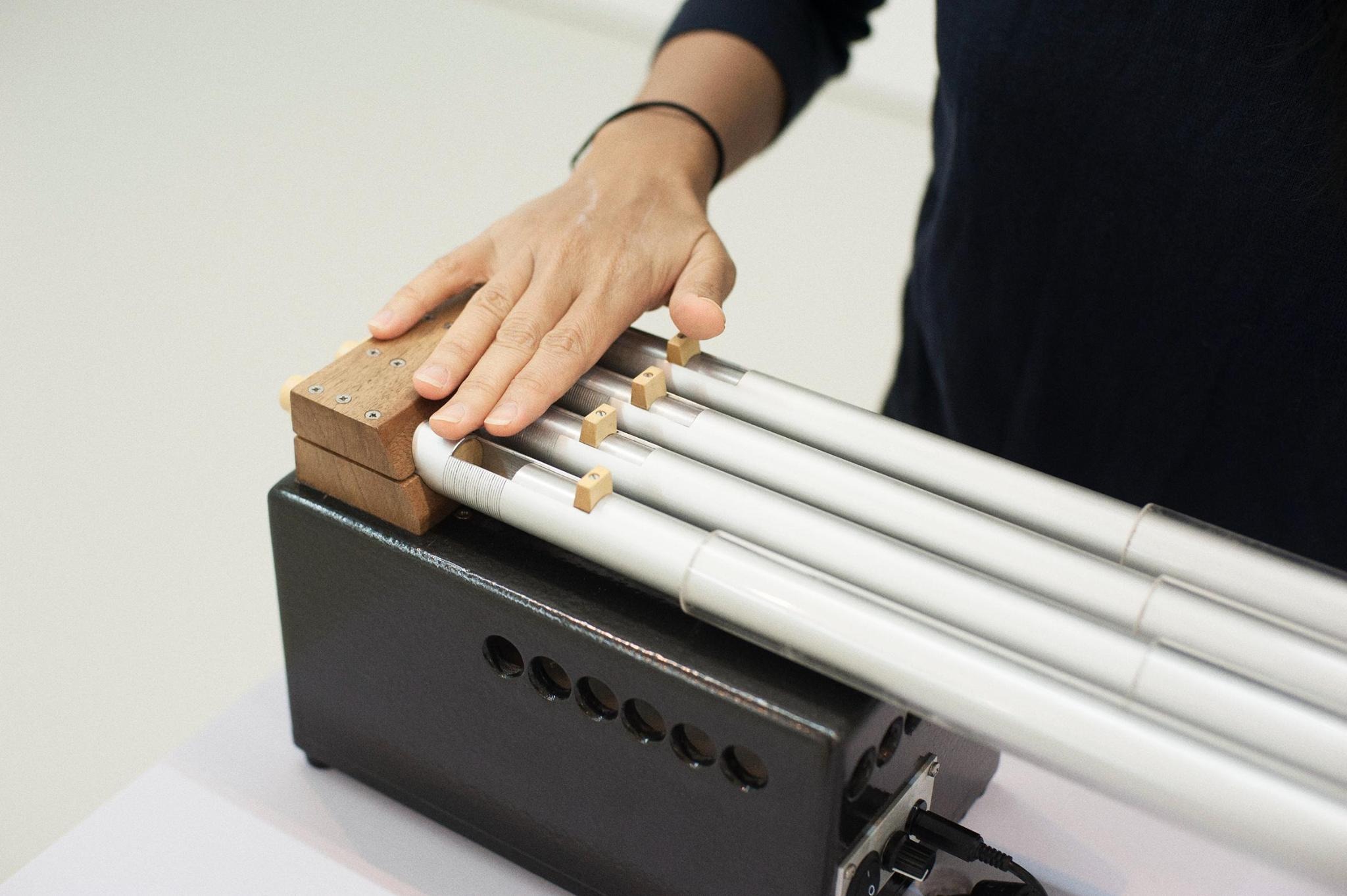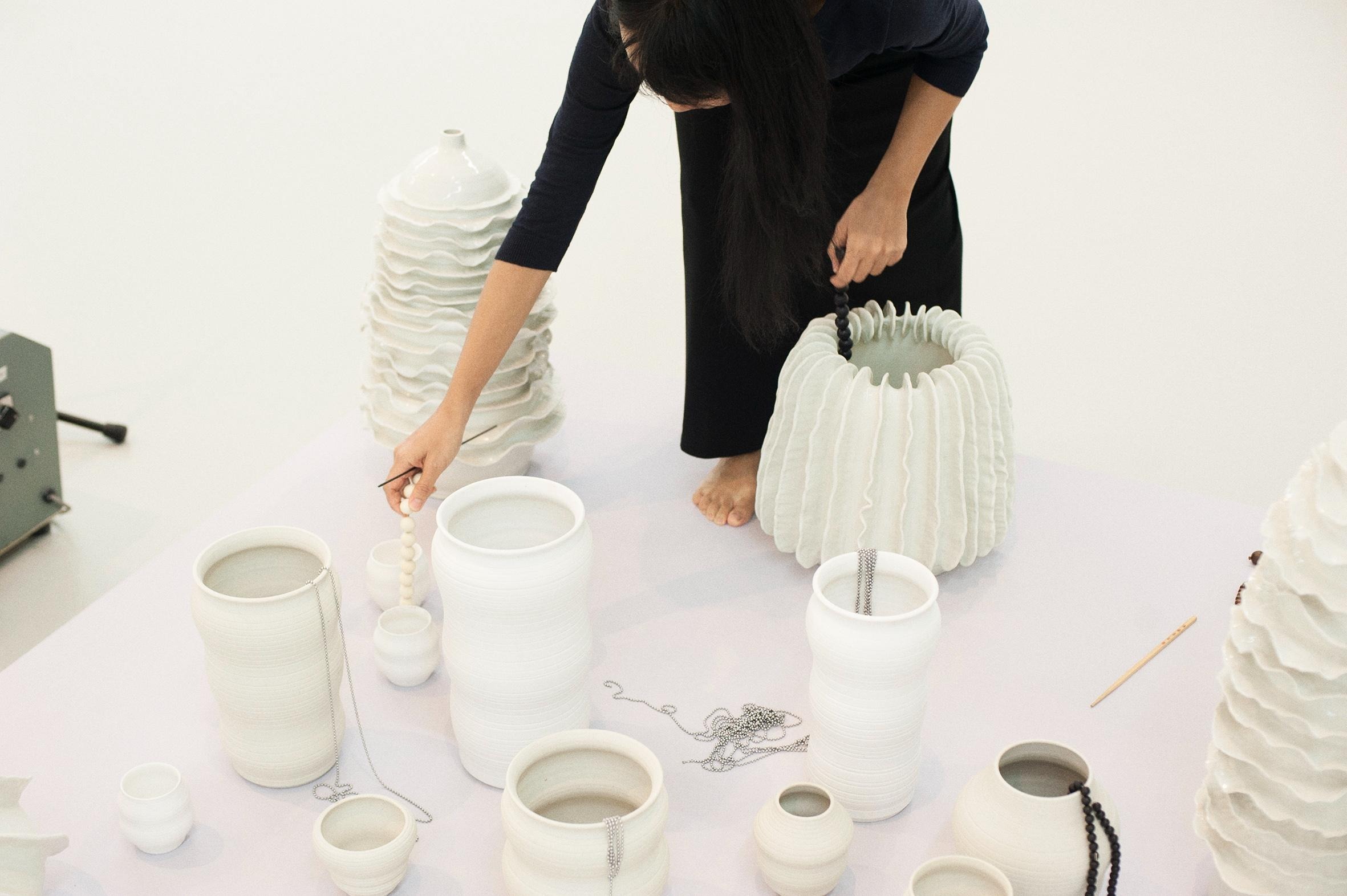 Vivian Wang was invited to collaborate with Tarek Atoui, along with sound artist Yuen Chee Wai and curator Mark Wong, who in turn invited other musicians and sound artists to inhabit the installation throughout the course of the exhibition.

Many of the instruments for this exhibition are part of The Ground project, the result of the Atoui's five-year-long investigation of natural cycles in the Pearl River Delta, first presented at Mirrored Gardens, a project space in Guangzhou, China, in 2017. Also presented are instruments created for previous projects, such as The Reverse Collection (2014–16) and WITHIN (2012–13). This ensemble of unusual instruments is enriched with new additions, including a set of porcelain and ceramic discs, on which traditional Arabic rhythms are engraved, and a customised record player that rotates at irregular speeds, never reading a disc the same way twice.

Video and artwork images reproduced here, courtesy of Tarek Atoui and the NTU Centre for Contemporary Art.